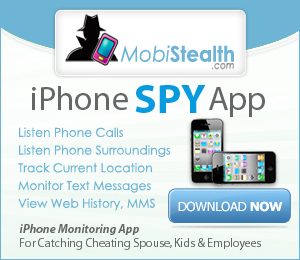 The iPhone Spy Software is a life saver. How do you ask? Imagine having a troubling employee/child/spouse that you have to keep an eye on, now imagine the cost of sneaking around behind their backs or hiring a private eye to see what they're doing. Now imagine the hundreds of dollars you would end up spending because of this little exercise. The iPhone Spy Software lets you shed your stress and walk away satisfied with as little as $39.99.
The iPhone Spy has been developed keeping in mind the many needs of its users. From tracking your target users whereabouts to making sure you know exactly who they are in contact with – you can do it all with one simple app. You don't need to have angry confrontations or dramatic accusatory fights; the iPhone Spy lets you keep knowledge at the tip of your fingers.
---
iPhone Spy Feature on Voice
Call History: We give you opportunity to have the details of all the calls from the target phone. this feature will give you the detail of all incoming and outgoing calls. The details that you will get from this feature will include date, time and duration of the calls.
Live Listening to Surroundings/Spy Call: You would like to make a spy call on you targeted iPhone to listen to the surroundings live. To do so you need to send a secret SMS. This secret SMS will automatically activate the microphone of the targeted iPhone to let you listen the surrounding voices.
Recording of Surroundings: This iPhone Spy give you opportunity to listen to the recorded surroundings later through your web account as whole recording is uploaded onto your account. All this activity is done remotely.
---
iPhone Spy Software Feature on Location
GPS LOCATION TRACKING: Monitoring location of your targeted iPhone is another key factor in spying. With this iPhone Spy Software you can perform this tracking on a predefined intervals secretly. All the data of location will be uploaded on your stealth club account and can be viewed logging into your account.
TRACKING WITHOUT GPS: Alternatively Don't have GPS on your target iPhone? Don't worry. With this iPhone Spy Software you can track the locations through Wi-Fi Signals connectivity or this can be done through the nearest mobile tower signal detection.
---
iPhone Spy App Features on Data
Email Logging: View This iPhone Spy App provide you the details of all the emails either sent or received.
Picture & Video Logging: Do you like to see what Pictures and Videos are there in the target iPhone you are spying on? iPhone Spy App will perform the task along with the all above mentioned capabilities. iPhone Spy App will upload all the pictures and videos into your web account which you can see by logging into your account.
Browser History Logging: Do you want to spy what browsing is done on the target iPhone? Don't worry iPhone Spy App will perform to upload all the browsing history data into your web account so that you can view all the browsing history.
Contact Details: This iPhone Spy App will also upload all the contact detail into your web account so that you can look into all the contacts of your target iPhone.
SMS Logging: Along with the contact details this iPhone Spy App will also upload all the SMS from the target iPhone. Are you worried about the deleted messages? Don't worry you can recover the deleted SMS with the help of iPhone Spy App, secretly.